"Hi, Miss Pingru, Long Time No See!"
On the morning of Sep. 13, in the Ziwei Cemetery of Shanghai Fu Shou Yuan, the statue of the anti-Japanese heroine Zheng Pingru was standing in the drizzle like a fairy. In front of the statue stood a Japanese man mourning with lower head and palms together devoutly. He raised his head after a long while and said, "Hi, Miss Pingru, long time no see!" He gazed at the statue as if she was standing there, as holy and beautiful as she was. He is Takayuki Yanagisawa, the author of Japanese-version Zheng Pingru, who took a special trip to China to "call on" Zheng Pingru and denote his new books and manuscripts to the Humanism Memorial Museum of Shanghai Fu Shou Yuan.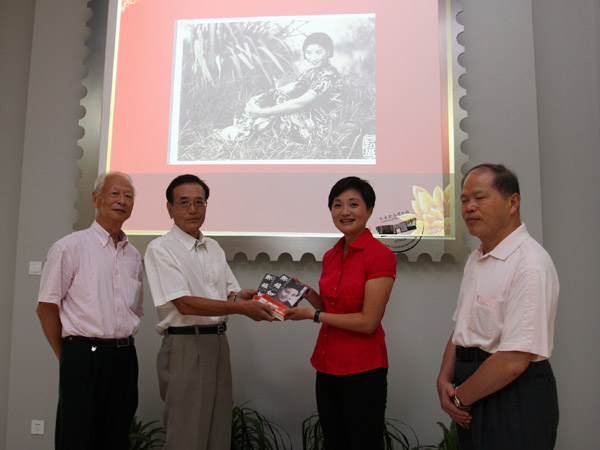 Takayuki Yanagisawa (second from left) donating his new book Zheng Pingru to Fu Shou Yuan Humanism Memorial Museum (first from left: Zheng Guoji, nephew of Zheng Pingru; first form right: Xu Hongxin, author of books for Zheng Pingru; second from right: Yi Hua, Deputy General Manager of Fu Shou Yuan Group)


Super fan write books and makes films
Takayuki Yanagisawa ever wrote scripts for TV stations in Japan and came across the film Lust, Caution in 2007 and hence got to know Zheng Ruping, the prototype of heroine Wang Jiazhi and became her super fan at the first sight of her photo. He said, "It is difficult to explain. At first sight, I have a special feeling. Maybe, it is predestined."
Afterwards, he went hither and thither to seek for clues about Zheng Pingru and was prepared to make feature films and write biography for her. In addition to collection of historical records in Japan, he ever flied to US and Taiwan to interview her family members many times and came to Shanghai to look into bygones of Zheng Pingru, attend the completion ceremony of the statue of Zheng Pingru and carry out in-depth exchange with Xu Hongshen, Chinese author of books for Zheng Pingru. In August 2008, the full length documentary Real Zheng Pingru, a Female Agent with Two Motherlands, jointly shot by Takayuki Yanagisawa and famous Japanese director Tsutomu Konno was first broadcast at the 50th anniversary of the founding of the Yomiuri Telecasting Corporation. His book Zheng Pingru was published in Japan in May 2010 and Takayuki Yanagisawa finally accomplish his initial dream.
Born in China Pray for Friendship between China and Japan
Takayuki Yanagisawa wrote books and shot films for Zheng Pingru not only out of his affection toward Zheng Pingru but also with a good will. He was born in the northeast of China (Manzhouli) and stayed in China until 1946. He has been sorry for the war staged by his elder generation because of what he saw and heard in his childhood. Therefore, he hoped that the dissemination of Zheng Pingru's stories could promote the eternal friendship between Chinese and Japanese people. He expressed that when conditions permit, he would publish the Chinese version of Zheng Pingru to make the heroine with two motherlands both in China and Japan known to more people.
Takayuki Yanagisawa ever wrote to the Chinese author Xu Hongxin, "The dissemination and narration of the tough experience of Zheng Pingru could not only serve as the monument for the anti-Japanese war but also as the new starting point for the friendship between China and Japan, which is the wish and aspiration from the bottom of my heart. I am crazy about her (Zheng Pingru) life because I could hear her voice. She tells us for the friendship between China and Japan, there must be no more wars between the two nations."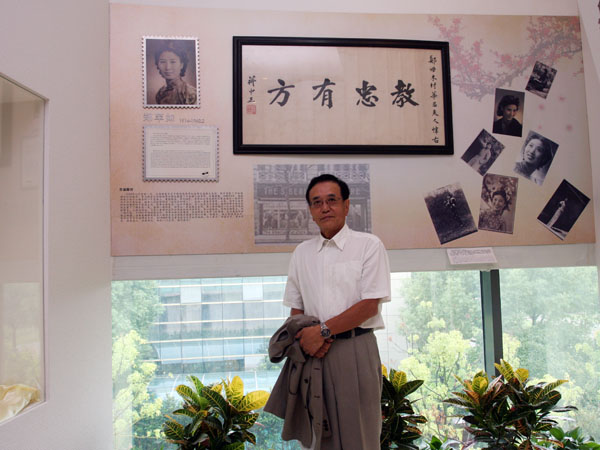 Takayuki Yanagisawa visiting Fu Shou Yuan Humanism Memorial Museum and taking a photo as a memento in front of the stand for Zheng Pingru