Visiting Infomation
Getting here :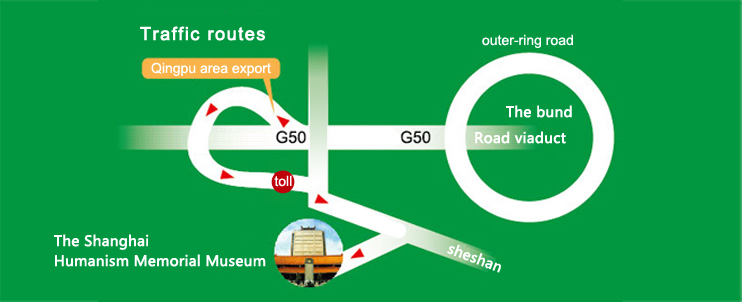 Opening time:
From 8:30 to 16:00, and the museum will be closed during the first Monday of each month.
Giving Forms:
TICKETS FREE
By Bus:
By Line 9 to Dongjing Station, and then transfer to Shihua-Qingpu Bus, Songjiang-Qingpu Bus, or Nanqiao-Qingpu bus.
By Car:
From Shanghai Yan'an Rd. Elevated Road to G50 Shanghai-Chongqing Expressway, and take the Qingpu Exit, turn right to Waiqingsong Road after leaving toll gate, and then follow the indication of "Fu Shou Yuan Humanism Memorial Park".
Service to Visitors:
Tour guide service:
The tour guide service is available for tourists who make appointment or individual tourists. For details, please consult the information desk in the hall at 021-3982 0577.

TV & Film:
"Echo of Life" in the first floor–Old-movies Mini-cinema will present short feature films in relation to buildings, collections, figures of the museum as well as film history of Shanghai on a regular basis.

Special lecture and education activity:
Ample special lectures and education activities are available in the museum. For details, please keep an eye on the advance notice in the museum and website information.

Reading:
Visitors may go to the Study of Celebrities located at B1 of the museum through the spiral staircase in the hall, and various books are available for reading for free.

Shopping:
Gift Shop is located at B1, where many fine gifts, books and audio-video products are available.

Service for disabled:
Lifts accessible to each floor are installed, and restrooms for disabled are available on each floor.